Naomi Tulay-Solanke is the case in point, that you can achieve anything if you put your mind to it. Pregnant at the age of 14 in Liberia, she experienced stigmatisation, naming and blaming. Social expectations were, that she would drop out of school. Naomi however, decided to prove everybody wrong. "I always knew that I was going to be somebody that would contribute to society" she says in our interview with her.

Working hard, determined to write her own life's story and contribute, she achieved her Masters degree and eventually became a nurse. However, at some point, she realised that for her "being a nurse was great, but that she needed to be greater", she relates. And what that meant to her, was to not only cater to people when they were sick but prevent them from getting sick in the first place.
So she quit her job as a nurse and started a mobile clinic, signing up her friends who were health professionals to work with her. Three months into this intervention, Liberia was hit with the worst Ebola outbreak ever in West Africa, forcing her and her team to put the activities on a hold.
But something compelled her to go back out. With the Ebola crisis still in full swing and Naomi pregnant, she decided to create more awareness about Ebola, create prevention kits for underserved communities and to help schools redesign their handwashing installations, so that more children could use it at the same time.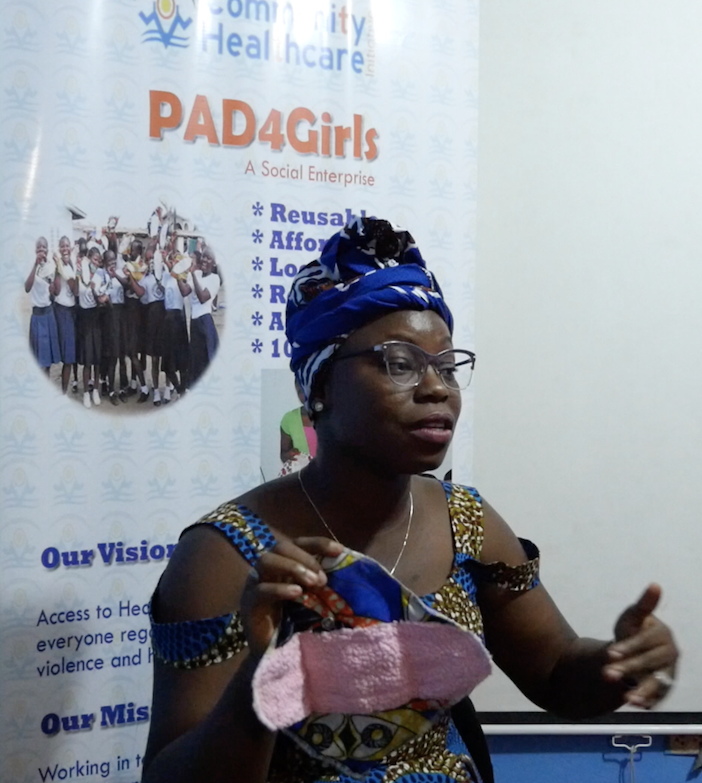 This work, eventually also put her in touch with the issue of young girls staying out of school and eventually dropping out of school due to a lack of sanitary pads in their communities. Today, Naomi Tulay-Solanke is engaging and training communities all across Liberia in addressing their own health challenges with low-cost solutions. Her PAD4Girls Social enterprise, a case in point, helps these underserved communities to produce their own reusable sanitary pads at affordable prices, solving one of the most pressing local problems for women and girls.

Naomi is an Ashoka fellow since 2018.

Watch the full interview with Naomi Tulay-Solanke here on Youtube.

You can find out more about Naomi and her work through:
– Her in depth profile on the Ashoka website
– The Community Healthcare Initiative Liberia Website
– Or the CHIL facebook page
– Find her on Twitter: @communityheal10